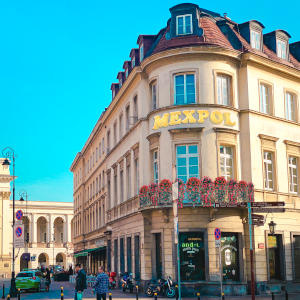 Historia firmy
1988-1989
Okres transformacji ustrojowej i gospodarczej
1989
Powstanie EFECTA S.A. polskiej spółki joint-venture,
która była pierwszą prywatną spółką udziałową w kraju.
W roku 1995 spółka EFFECTA S.A. została przekształcona
w spółką akcyjną MEXPOL S.A.
Akcjonariusze:
Stanisława Wanda Rembowska
Klaus H. Tacke
Dyrekcja:
Organizacja pracy realizowana jest na partnerskiej współpracy
First business concept:
(due to extremely high interest-rates for credits):
Supply of machinery to be paid 'buy-back' with products.
---
Engagement in the Polish Dairy Industry (1989-1996)
Supply of machinery to be paid with skimmed milk powder, casein, butter,
building up the first production line for edible casein in Poland (1990),
due to the buy-back-arrangements and special conditions for joint-venture-companies we reached the leading position as exporter of milk powder and casein (1889-1996).
This enabled us as well to get sufficient financial means for further investments.
---
Engagement in the Polish Sugar Industry (since 1989)
Supply of machinery to be paid with molasses and beet pulp pellets
Starting "manually" with transloading in Szczecin from rail-tank to vessel.
Building up a transhipment terminal in Gdańsk in order to be ready for professional logistics and for a long term cooperation.
Continuously increasing our market share in export of molasses.
Providing handling services, storage and logistics for third interested parties.
Increasing our storage capacity up to 30.000 mt of molasses (2012).
In order to be prepared for the expiration of the sugar quota system in 2017, we decided to increase the molasses storage capacity up to 34.000 mt.
Additionally the terminal has been prepared for importing molasses if required.
Simultaneously begin of export of 'out of quota'-sugar thus breaking the monopoly of the state-owned company Rolimpex.
Annually organizing a symposium for 76 sugar factories with international participation of high ranked politicians and professionals (1991-2002).
During the first years after the economic transformation EFFECTA/MEXPOL ranked between the biggest exporters of Polish goods into the European Market.
Active role in "Izba Cukrowa", the professional body of the Polish sugar industry, while preparing the law for Polish sugar regulation "Ustawa Cukrowa".
Participation in the first round of privatization of Polish sugar factories.
Since 2004 the EU sugar regime changed the way of business in sugar and gave us the possibility to act as broker and/or agent for international sugar companies.
---
Engagement in Vegetable Oils (since 1991)
Extension of our activities by investing in transhipment and storage facilities for vegetable oil in the terminal in Gdańsk,
Starting with import of various oil specialities for the Polish animal feed market.
Supplying logistic services and facilities in the port of Gdynia for these items for European companies.